See Why We're Excited About the New Library!
"The Library project meets a set of immediate practical problems and a set of wonderful opportunities. Our new library will make a difference for Ringling College and be a distinctive expression of its identity."
Dr. Larry Thompson, President
"With the new building, the College redefines the Library's mission, fundamentally repositioning it in the lives of students and faculty."
Kathleen List, former Director of Library Services
---
The new library will be 46,000 square feet in a multi-story design. It will feature seating for more than 400, a large computer lab and interactive study area, a coffee bar/café, 15 group study/meeting rooms, 2 large instruction rooms, the Academic Resource Center, a technology help desk, quiet study areas, room to double the collections, and a special collections department.
Architect's Model of the New Library
View from Old Bradenton Road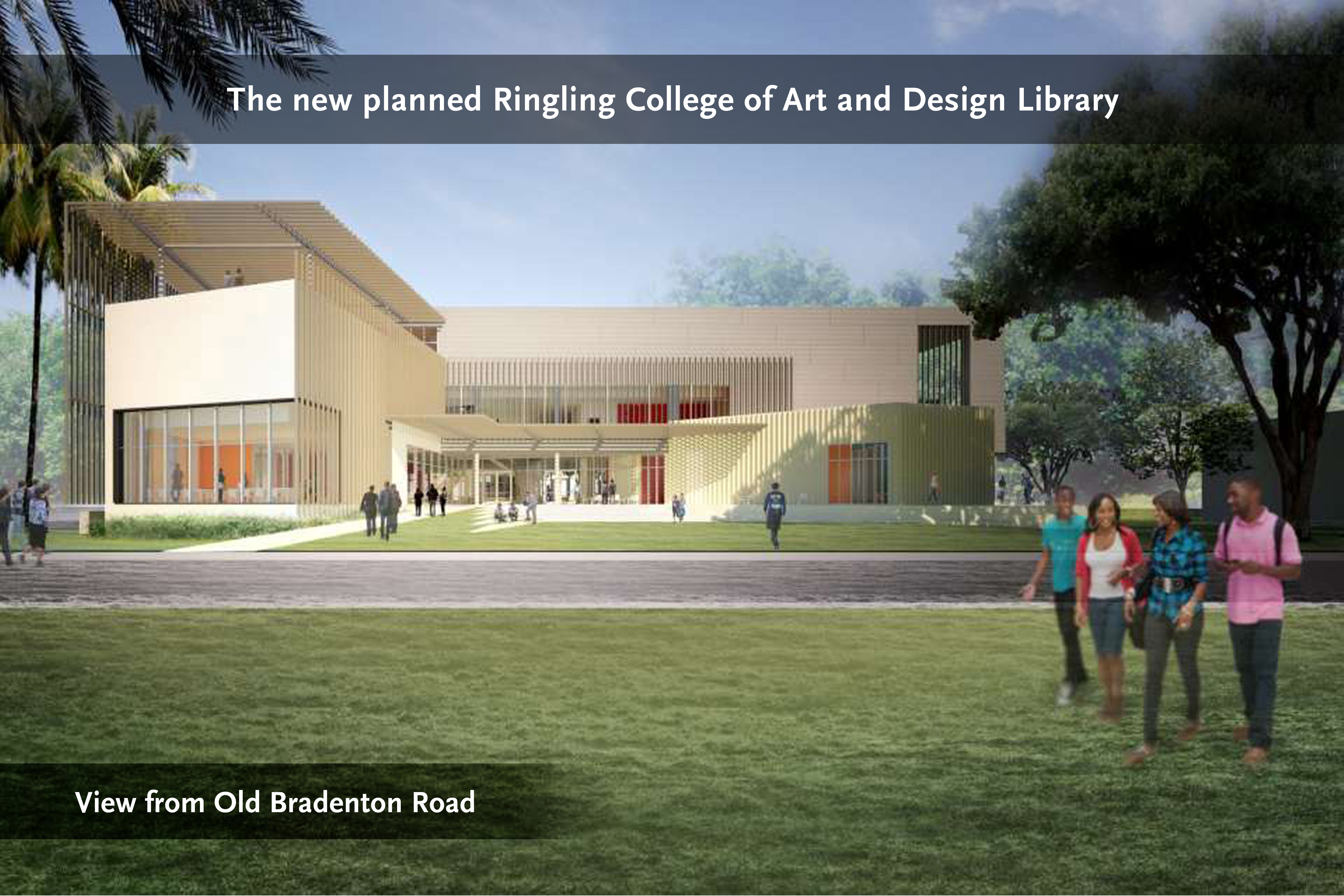 View from Dr. Martin Luther King Jr. Way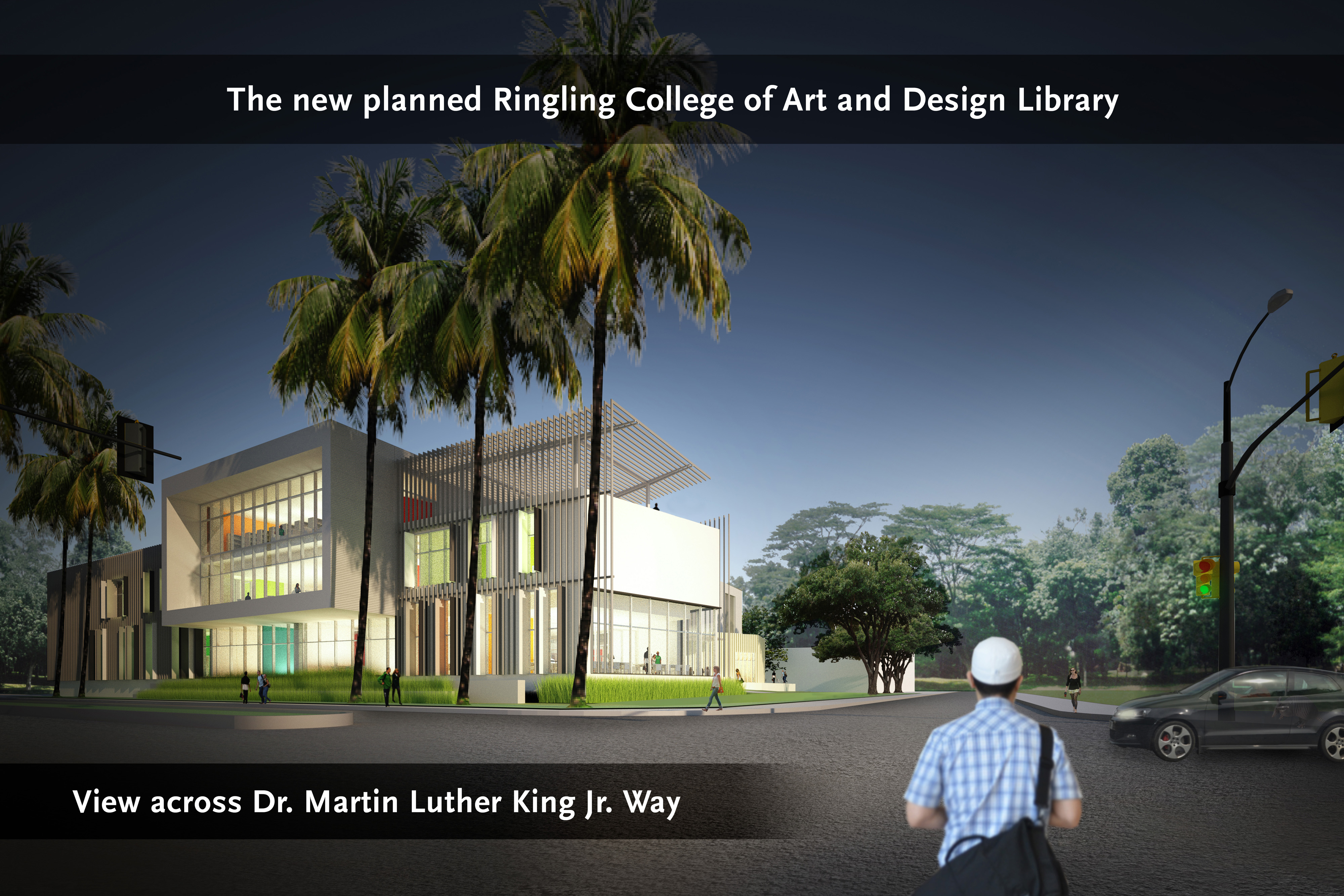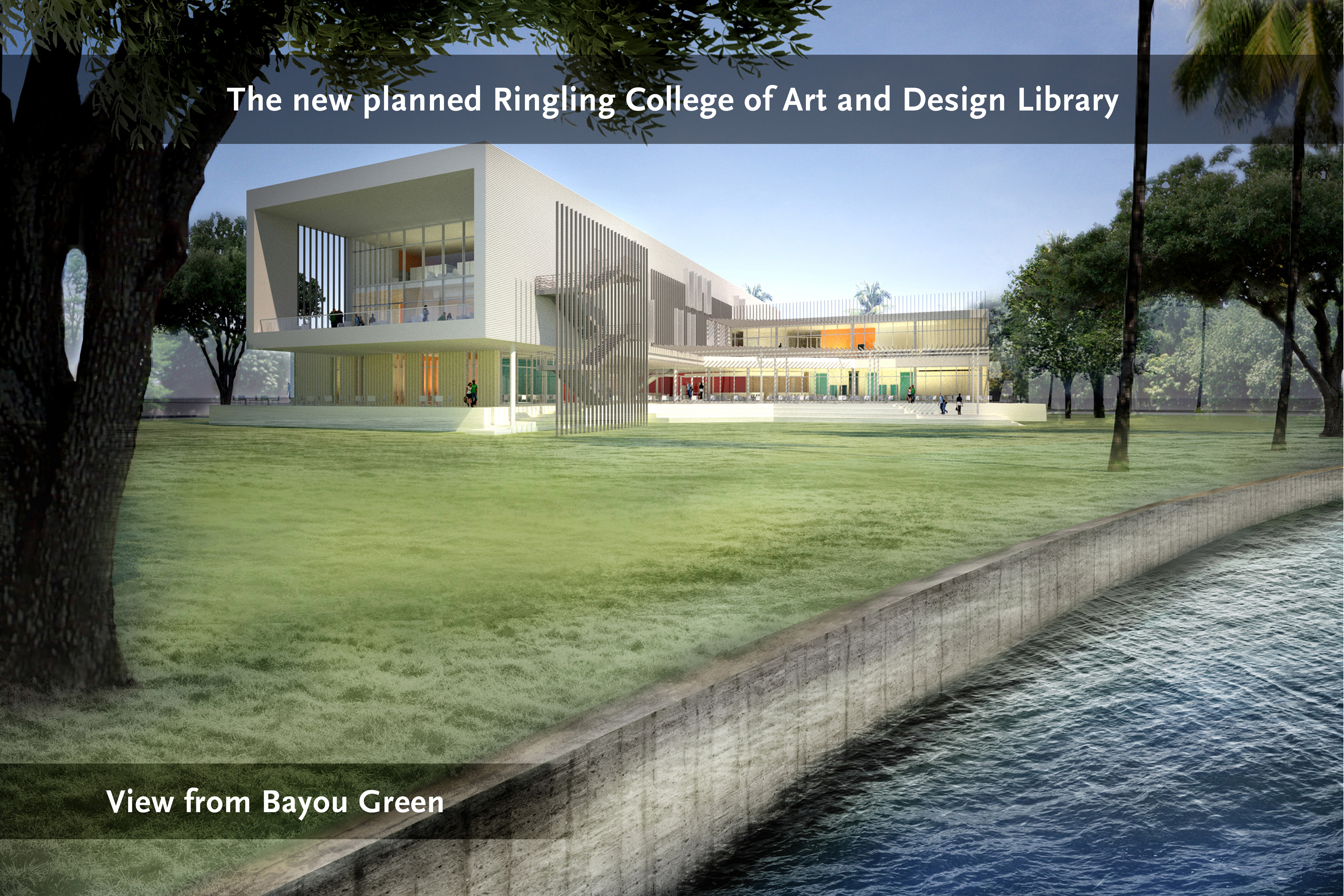 The site of the new library facility is southeast of the intersection of Dr. Martin Luther King Jr. Way and Old Bradenton Road, adjacent to Whitaker Bayou. On that location there is currently a parking lot and the Brandenburg Studio. In a single location, the new library learning facility brings together resources, spaces, experts, and opportunities that presently may be scattered or insufficient to our needs and vision.
The site will be a beautiful setting for the library in several ways. It takes advantage of the bayou view, a feature our architects already see as an opportunity to develop a green space on the southeast approach to the building—a "bayou green"— with stepped terraces, outdoor seating and long views. On the west side of the building, with a set back from Old Bradenton Road and the future planned removal of older buildings, the western façade entrance will be approached from a "campus green." The site is also home to several native trees, referred to as the "grand trees," whose massive canopies provide welcome shade. The view across the bayou to the east is a city park and private residences with their own docks. To the south are Ringling's Bayou Studios. To the north is Ringling's new Student Health Center.
The location allows for one, two, and three stories, depending upon their position on the site. Three stories are permitted closer to Old Bradenton Road, while two stories are permitted closer to Whitaker Bayou.
The architects will design the exterior of the building with consideration for passive shading solutions. All of Ringling's recently-constructed buildings meet LEED certification, as will the new library building.